Advertise With Us
Reach out to hundreds of thousands of potential new gay tourism & wedding customers with Colorado Pride Guide and GayColorado.com.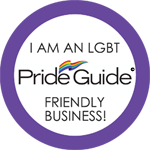 What's Happening?
Posted on Tuesday, July 23rd, 2019
Colorado Springs (July 23, 2019) — The Colorado Springs Fine Arts Center at Colorado College is pleased to announce a grant award from The Andy Warhol Foundation for the Visual Arts. The Fine Arts Center is the first Colorado-based …(more)
Are You Listed?
Our Featured Partners