Denver Metro Gay Resource Directory
DENVER- BOULDER METRO AREA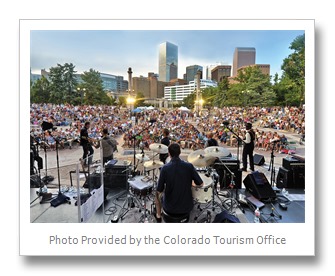 DENVER
The long-running theory among Denverites is that if the rest of the country knew about the Mile High City's 300 or so annual days of sunshine, resolute friendliness and relative affordability, there wouldn't be anyone left to live in other major cities.
Founded at the confluence of the South Platte River and Cherry Creek, Denver was an 1850s Colorado boomtown for ranchers and prospectors who struck silver and gold in the Rocky Mountains just 15 miles west. A lot of that old-school flavor lives on in Lower Downtown's hip warehouse district and in the turn-of-the-century mansions of Capitol Hill.
Denver has one of the fastest-growing metropolitan populations in the country, and its big-city amenities are increasing all the time, with acclaimed art museums, a vast performing arts complex, eight professional sports teams and plenty of palate-tempting dining options.
Urbanism aside, many visitors to Metro Denver come here to get outside. And from the ponderosa-wooded trails near Deckers to the rolling hills around Castle Rock to Red Rocks' impressive outdoor amphitheater, there are plenty of opportunities to do so.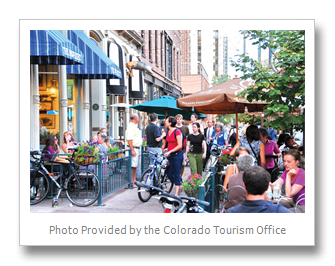 The Mile High City has long been a hot spot of gay culture.
As the largest city in a 600-mile radius, LGBT men and women from all over the West have flocked to Denver for decades, resulting in a well-established nightlife and numerous annual events that draw huge crowds. In the last few years, Denver has jumped in popularity as a travel destination for LGBT visitors;

A LOOK AT LGBT HISTORY IN DENVER
Denver has long been a gathering place for people of all cultures. First were the high plains Native Americans who followed the buffalo herds and lived throughout the Front Range. When prospectors discovered gold in 1858, thousands of men (and a few women) crossed the Great Plains and settled in and around Denver. More than a third of the cowboys riding the cattle drives of this era were African Americans, many of them freed slaves who migrated West after the Civil War. By the 1980s, Denver had been dubbed the gay oasis of the west. Gay men and women in the previous decade had organized and established themselves as a smart, cultured and politically active community.
Here are some moments of notice in LGBT history in Denver:
1973: Gay Coalition of Denver works with Denver's City Council to abolish anti-gay laws.
1974: Denver's first Pride celebration, a picnic in Cheesman Park.
1975: Denver's first official Pride Parade.
1982: The Colorado Gay Rodeo Association is formed. Soon after, Denver hosted its first rodeo.
1983: Denver's gay and lesbian community mobilizes to elect Federico Peña, Denver's first Latino mayor and executive ally to the community.
1990: Denver becomes one of the first municipalities in the nation to adopt an anti-discrimination policy including gay and lesbians.
1991: Denver voters supported the anti-discrimination policy despite opponents trying to overturn it at the ballot.
1994: Denver businessman Tim Gill creates the Gill Foundation, an organization to advance LGBT rights through charity and education.
2010: The GLBT Community Center of Colorado, the producer of PrideFest, adds a second day of festivities.
2012: Denver's PrideFest ranks third largest in the nation.
2013: Colorado adopts the Colorado Civil Union Act establishing relationship recognition for same-sex couples.
For more information on Denver visit http://www.denver.org/about-denver/lgbt/
ARVADA
Today, a blend of historic and modern architecture make for a suburb mindful of its small-town roots. The Arvada Historical Society provides a tour of old downtown, including the 1926 Arvada Flour Mill, now on the National Register of Historic Places. Olde Town Arvadais emerging as a popular hangout that bustles with dozens of restaurants, bars, galleries, boutiques, summer concerts, festivals and more.
While in the area, visit the Arvada Center. Featuring a popular and high-quality annual theater series, a museum, two art galleries, classrooms for hundreds of art education programs, this complex is an exciting addition to the community. The center's outdoor Summer Stage, with concerts, dance performances and theater productions, is a big draw.
AURORA
Today, this city leads the nation in redevelopment, with the creation of new housing and recreational and technical-business plazas in and around the former airfields. Aurora is also home to the University of Colorado Hospital's Anschutz Medical Campus, a world-class academic health center, with state-of-the-art healthcare facilities.
The area also features three public reservoirs as well a number of parks. Aurora is home to seven public golf courses, with a variety of layouts to choose from. A thriving arts scene, including the Aurora Symphony Orchestra and Fox Arts Center, complement the city's vast array ethnic restaurants and markets.
Aurora is also conveniently close to some of east Denver's top attractions, including the Denver Zoo and the Museum of Nature & Science. At just 15 minutes away, Aurora is also conveniently close to the Denver International Airport.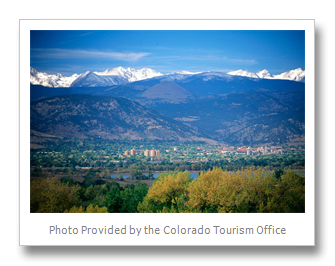 BOULDER
Boulder's first settlers came to hunt for gold, but today, it's a casually sophisticated town looks and feels very little like a mining camp. Tucked into the foothills below a rock formation known as The Flatirons, it's close to Denver geographically, but worlds apart in attitude.
Its feel-good Earth Mother reputation is well deserved. The Naropa University, the nation's only Buddhist university, is located here, as is the Boulder College of Massage Therapy. Complementing these schools is the flagship campus of the University of Colorado with approximately 30,000 students.
Shopping, they say, is the number one pursuit of travelers these days, and you'll find plenty of it here. Shops with clever names and unusual wares will draw in passers-by on the Pearl Street Mall downtown.
But shopping isn't the only way to get outdoors. The city was named the best place in the nation to indulge in outdoor sports by Outside magazine. Here, you'll find 45,000 acres of designated space to hike or ride a bike, climb a mountain, kayak a river, walk along a stream or fish. Snowshoeing and cross-country skiing are popular in winter, as is skiing and snowboarding at nearby Eldora Mountain Resort.
Elegant, historic hotels complement modern digs to provide a variety of overnight accommodations. Restaurants also abound, and vegetarians are more than welcome. Don't miss the city's great craft breweries and exciting nightlife, thanks in part to the college-age crowd.
Because Boulder is a university town, it offers rich cultural experiences such as the annual Colorado Shakespeare Festival and Colorado Music Festival and has a reputation for hosting world-famous performers and guest speakers at events throughout the year.
The city has long been a forward-thinking community. That fact, combined with its high-altitude location, inspired the National Center for Atmospheric Research and the National Oceanic and Atmospheric Administration to settle here — both of which offer tours to visitors.
BROOMFIELD
Located along the technology corridor on U.S. 36, just 20 minutes from Denver and 10 minutes from Boulder, Broomfield is home to top technology companies, attracting savvy professionals looking for a quick office commute.
Three golf courses and expansive community open spaces and trails make for ample room to enjoy the area's blue skies and celebrated sunrises and sunsets. FlatIron Crossing, a beautifully landscaped shopping mall, surrounded by Main Street at Flatiron and Flatiron Marketplace, creates a modern retail district with an array of department, specialty and big-box stores where restaurants abound for those looking for dinner and a movie.
New to Broomfield is the fabulous 1st Bank Center, which hosts big concerts, circuses, rodeos, truck races, Ice Capades, conventions, trade shows and community events.
ENGLEWOOD
Incorporated in 1903, Englewood is a full-service city 20 minutes south of downtown Denver, where residents and businesses benefit from major transportation corridors and a central location. The city is known for its small-town charm and its proximity to a major metropolitan area.
The private University of Denver is located here, responsible for the city's funky, college-town character and Condoleezza Rice's bachelor of arts degree. At the Magness Arena watch the DU Pioneers compete for yet another NCAA hockey championship. An area must-see is the newly restored Gothic Theatre, a beautiful art-deco venue dating back to the 1920s.
Englewood sits adjacent to two large reservoirs where visitors enjoy swimming, sailing, boating and water skiing. This community is also home to a well-designed recreation center, a skateboard park and several athletic fields. Meanwhile, hiking, skiing, camping and other forms of alpine recreation are just an hour's drive away in the Rocky Mountains.
GOLDEN
Golden, a gateway to the Rocky Mountains on the west edge of Denver, offers a peek at mining, beer and Buffalo Bill.
The grave of Buffalo Bill Cody, of legendary Wild West Show fame, is situated on Lookout Mountain above town. It's a major attraction in the Denver area, and the quaint museum next to it is worth a stop. While you're up there, stop by the Lookout Mountain Nature Center and Preserve and the 1917 Boettcher Mansion.
Down below, the smell of hops permeates the clean mountain air. The Miller Coors brewery was established here in 1873 by German immigrant Adolph Coors. A factory tour includes sampling some fresh brews.
Golden was such a boomtown, it was made Colorado's territorial capital in 1862. Local museums, including the Golden Pioneers Museum, will flesh out the amazing local history for you. Don't miss the Colorado Railroad Museum, where you can actually climb around on old trains.
The Colorado School of Mines makes its home here; visitors can view displays of rocks, gems and minerals and learn about how they're important to modern civilization in the school's geology museum.
If you're looking for outdoor activities, head to nearby Golden Gate Canyon State Park. You can enjoy all sorts of recreation here. Be sure to take a look around and remind yourself what this part of Colorado looked like before settlers and miners made their mark.
LAKEWOOD
The third-largest city in the Denver metro area, this suburb to the west of the city has one of the best views of the Rocky Mountain foothills. Lakewood's relatively new downtown Belmar area, complete with shops, restaurants, a movie theater and pedestrian-friendly spots, is emerging on the site of a demolished shopping mall.
Lakewood also features extensive cultural programming and recreation areas. The 38,000-square-foot Lakewood Cultural Center boasts a 300-seat theater and gallery space, while the Lakewood Heritage Center includes 10 historic structures and 30,000 artifacts, plus a popular outdoor amphitheater.
With more than 80 maintained parks, Lakewood is also one of Denver's top places for outside activities. Bear Creek Lake Park is the city's most popular playground. Filled with a large fishing lake, paved and dirt biking and hiking trails, picnic areas and a summer water-skiing concessionaire, this 2,600-acre park has something for everyone. For mountain lovers, the steep terrain at Lakewood's Hayden Park on Green Mountain offers a great workout and scenic mountain views.
LITTLETON
Not every Denver suburb has such a distinctive history separate from the city proper, but Littleton definitely has its own story.
First of all, Historic Downtown Littleton, with tree-lined streets and several distinctive historic buildings, looks nothing like Denver's high-rise skyline. But if you want to get to Denver from here, aside from driving, you can hike or bike the riverside trail along the Platte River or you can get there fast on the RTD light rail.
An impressive town museum, the Littleton Historical Museum, is situated on a spacious 14 acres next to Ketring Lake. This living history farm, served well by trained volunteers, re-creates life on an 1860s farm and homestead. Stepping through its gates is like stepping back in time. Imagine what it was like to go to class in the old schoolhouse, to churn the butter for your bread, make a quilt to keep you warm at night or watch the village blacksmith at work. Galleries and exhibits, with thousands of local artifacts, further interpret the area's history.
Step back out through the gates and you're in an urbane neighborhood, with great shopping and dining. Littleton truly enjoys the best of both worlds — past and present.
WESTMINSTER
Situated on the growing Denver–Boulder corridor, Westminster is easily accessed from either metropolitan area.
While new structures have made over Westminster, the town's history is carefully preserved at the Bowles House Museum. Westminster's Pillar of Fire building, a majestic neo-Romanesque-style building built in 1892, is another interesting tribute to the past. Numerous other structures are also listed on the National Register of Historic Places.
What's most visible in Westminster, however, is a sea of new shopping districts. Visitors will find conveniences ranging from popular chain stores to family-style restaurants located immediately off of U.S. 36. In addition, the Westminster Promenade, an outdoor pedestrian village, contains restaurants and cafes, a movie theater, sculptures, hotel facilities, performance areas, interactive water features, walking trails and a three-rink ice arena.
The Butterfly Pavilion is a lush conservatory home to 1,200 free-flying butterflies, including the brilliant Blue Morpho and a giant endangered species from Australia. The pavilion is one of the area's most popular family attractions.