Westernaires Mount Up Alongside Neighborhood Favorites
for Denver's Biggest Little Independence Day Shindig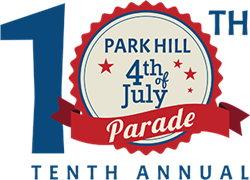 DENVER, CO: Is "Americana-rama" a word? And if not…should it be? If Park Hill has any say in the matter, the answer to both questions is a resounding YES. For a decade now, this historic northeast Denver neighborhood has been rolling out the red, white and blue carpet for friends, family and visitors from all over Colorado—with one of the most casual, quirky and wholesome celebrations of neighborly (and national) pride in the country.
Since its maiden voyage in 2010, the Park Hill 4th of July Parade has slowly transformed from a laid-back neighborhood celebration to…well, a REALLY BIG laid-back neighborhood celebration, with steadily climbing crowd numbers and an ever-expanding roster of participants. Last year's festivities welcomed more than 6,500 guests and 800+ marchers, riders, rollers and strollers—and the 10th anniversary promises to top those numbers and then some.
For the first time, Park Hill is thrilled to welcome the Westernaires into the fold this year. Based in Golden, this legendary mounted drill team and Stock Show staple has been garnering oohs and aahs for 70 years, as riders aged 9–19 put their trusty steeds through their ultra-precise paces. Also new this year: the chill tropical vibes of Denver Tiki Tribe, the "plastic thunder" of the Mile High Rollers—an adult Big Wheel crew—and the hot New Orleans sounds of the Brothers of Brass.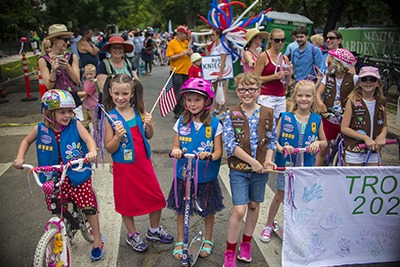 In a neighborhood known for both tradition and diversity, it can be hard to predict the oddball "pairings" poised to come rolling down 23rd. Imperial Stormtroopers + cheer squads? Check. Captain America + the Krishnamobile? Quite right. Tae Kwon Do board-breakers + VW-driving tree-huggers? Heck yeah! The party doesn't stop there with everything from scout troops and dancing seniors to jazz bands and glad-handing politicos—will be on offer as well.
The 10th annual Park Hill 4th of July Parade runs from 1:30–3:00PM on Thursday, July 4. As always, the Parade will begin with the National Anthem, sung again this year by award-winning country singer Leslie Tom, and then will march through the historic Park Hill neighborhood along 23rd Avenue from Dexter Street to Krameria Street, where it will culminate in a street fair on the 2200 block of Kearney—offering up sweet treats from Cake Crumbs Bakery, savory snacks from Oblio's Pizza, live music and more. Visitors are encouraged to set up blankets, chairs, umbrellas and coolers anywhere along the route—space is limited, so early-morning setup is encouraged. Volunteers, kindly contact Parade organizers at parkhillparade@gmail.com. Details can be found at www.parkhillparade.org.
The Parade, an event produced by Greater Park Hill Community, Inc. (GPHC), the Registered Neighborhood Organization (RNO) for Park Hill, could not be held without the generous support of our sponsors. This year's title sponsors are:
TITLE SPONSORS:
Nestman Orthodontics, Rocky Mountain Hospital for Children and Chris Herndon
PREMIER SPONSORS
Ciji's Natural Pet Supply, Claire Family Dentistry, Dee Ciancio Realty (Forte Group), Oblio's Pizza, The Hills Church, Dardano's School of Gymnastics, Tables Restaurant, Hakala Family Dentistry, Twinkle Together/Music Together and Gather & Spruce
SPONSORS
Denver Public Library, Park Hill Branch, Cake Crumbs Bakery, Grape Expectations Wine & Spirits, Park Hill United Methodist Church, Spinelli's Market and Denver Beer Co.
MEDIA CONTACT
Justin Bresler, Parade Organizer
303-918-6517
www.facebook.com/parkhillparade
www.instagram.com/parkhillparade
#parkhillparade